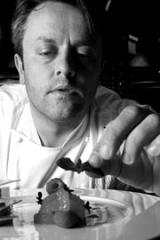 Born on April 7th 1968
Terje Ness comes from a small town in the west of Norway, Førde. He was four years old when he decided to become a
chef. He doesn't know why, as at the time he didn't even help his mother in the kitchen … but that was what he wanted
to do! Years later, he found himself in front of the stoves of the famous restaurant Bagatelle in Oslo. From 1997 to 2000,
he belonged to the Norwegian culinary team. During the year leading up to the Bocuse d'Or he trained intensively with
the enthusiastic support of Eyvind Hellstrøm. After winning, he continued to work at the Bagatelle before opening his
first restaurant, ORO, in August 2000. It met with instant success and was awarded a star by the Michelin Guide as
from 2002. Terje left the ORO in March 2004 to work at Haga, on the splendid Haga golf course a few months later. This
gave him the opportunity to combine his love of nature and sport with his profession. Terje likes elaborating his own
style of cuisine, mainly based on the fish found in Norwegian waters, by enhancing their diverse qualities. He blends the
techniques of French cuisine with local products, a strategy that has earned him an international reputation and led him
to travel as ambassador of Norway's sea products. In 2009 he returned to take command of the ORO to general
acclaim.
—–
source : 34 chefs, 34 recettes