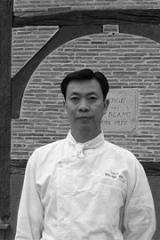 Born on February 21st 1959
One can only sit back in admiration when reading William Wai's professional itinerary. He chose to become a chef when
22 and trained at different large tourist complexes as well as at Beijing Air Catering where, as assistant executive chef,
he managed catering for 24 airline companies (ranging from 4 to 5,000 meals a day). His ability to manage large teams
for mass catering earned him several prizes and, in 1994, he became Executive Chef of the Suntec International
Conference Centre where he has to ensure the quality of the cocktails, banquets, etc. for thousands of people every
day, providing both Asian and Western fare. However, in spite of his obviously heavy workload, he still finds the time to
prepare for different culinary competitions and display his remarkable talents! After competitions on such themes as
seafood and Australian meat, he competed in the 1989 Bocuse d'Or to become the first Asian (and the only one to date)
to climb onto the podium!